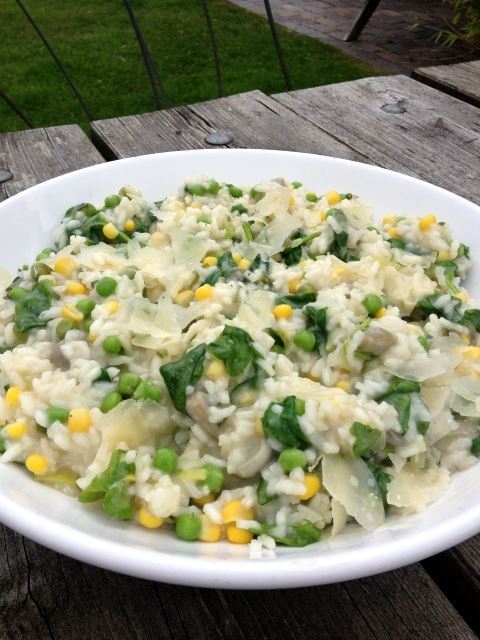 Summer Vegetable Risotto
Ingredients
4oz/100g field fare frozen AA Garden peas or petit pois
4oz/100g field fare frozen baby broad beans
4oz/100g frozen sweetcorn
2oz/50g field fare frozen baby spinach leaves, thawed
2 spring onion
2 garlic cloves
10oz/300g risotto rice
2oz/50g butter
1 ¾ pints/1 litre hot chicken or vegetable stock
Handful of mint leaves (or parsley)
Parmesan shavings
Salt and black pepper
Finely chop the spring onions, crush the garlic cloves and grate or shave the parmesan cheese.  Roughly chop the mint.  Put the butter in a saucepan and set on medium heat.  Add the spring onions and cook, stirring for about 2 minutes.  Add the garlic and rice, then stir well.
Gradually add the hot stock, a little at a time, stirring regularly.  When the rice has absorbed the stock, add more stock and stir.  Keep doing this until nearly all the stock has been used (except for about a ladle full), then add the broad beans, sweetcorn and peas.  Stir again and cook for about 5 more minutes, adding the rest of the stock, until used up.  Season with salt and black pepper, to taste.
Check that the rice is cooked – it should be soft, but not mushy.  If it is not cooked, heat for a little longer (add a little more stock or boiling water, if needed) until the rice is cooked through, then add the mint leaves.
Take the saucepan off the heat and stir in the spinach leaves, which should wilt without any additional heat.  Stir in the Parmesan cheese.
Pile the mixture into a serving bowl and serve!
Many thanks to Tessa Patterson for putting together this fabulous recipe for us
www.ThriftyCook.co.uk.
Important Information
d
These cooking instructions are a guide only. Your appliance may have a different power rating, so please adjust accordingly