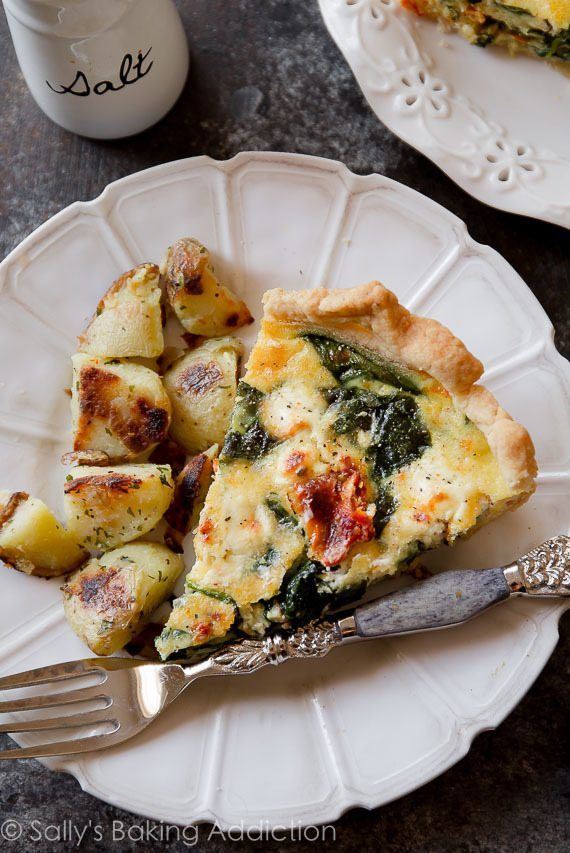 Goats' Cheese, Spinach & Sun-Dried Tomato Quiche
Serves 4
Cooks in
Preparation Time
Easy
Ingredients
1 x field fare short crust pastry (defrosted)
1/2 teaspoon olive oil
1 teaspoon minced garlic
3 packed cups of frozen field fare spinach (see notes)
4 large eggs
1 cup whole milk
1/2 cup sun-dried tomatoes, drained and chopped
4 ounces goat cheese, crumbled or chopped
salt & pepper, to taste
Defrost pastry the night before, to save yourself some time.
Preheat oven to 175°C.
Heat olive oil and garlic in a skillet over a medium heat. Add the spinach. Cook and stir until wilted. Set aside.
On a floured work surface, roll out the chilled pie dough. Turn the pie crust dough about a quarter turn after every few rolls, until you have a circle 12 inches in diameter. Carefully place the dough into a 9-inch pie dish. Tuck it in with your fingers, making sure it is smooth. With a small and sharp knife, trim the extra overhang of crust and discard. Using pie weights, pre-bake the pie crust for 8 minutes.
While the pie crust is baking, whisk the eggs and milk together, until combined. Stir in the sun-dried tomatoes, goats' cheese, and spinach. Sprinkle with salt and pepper.
After 8 minutes, remove the pie crust from the oven. Pour in the egg mixture. If desired, sprinkle the top lightly with more salt and pepper.
Bake the quiche until it is golden brown on top and the centre is no longer jiggly. Depending on your oven, this will take anywhere between 45 – 55 minutes. Use a pie shield to prevent the pie crust from over browning, if desired. Allow to cool for 5 minutes before slicing and serving. This quiche makes great leftovers for breakfast, lunch, or dinner!
Store tightly covered in the refrigerator for up to 4 days.
Make ahead tip: Baked quiche freezes very well, up to 2 months. Thaw overnight and bake at 175°C to warm up for 25 minutes, give or take.
Note: You can use frozen spinach instead. Use a 10 oz box. If your frozen spinach is not already thawed, thaw it in the microwave per box directions. Drain the spinach in a colander, while you prepare the rest of the ingredients.
Many thanks to www.sallysbakingaddiction.com.
Important Information
d
These cooking instructions are a guide only. Your appliance may have a different power rating, so please adjust accordingly