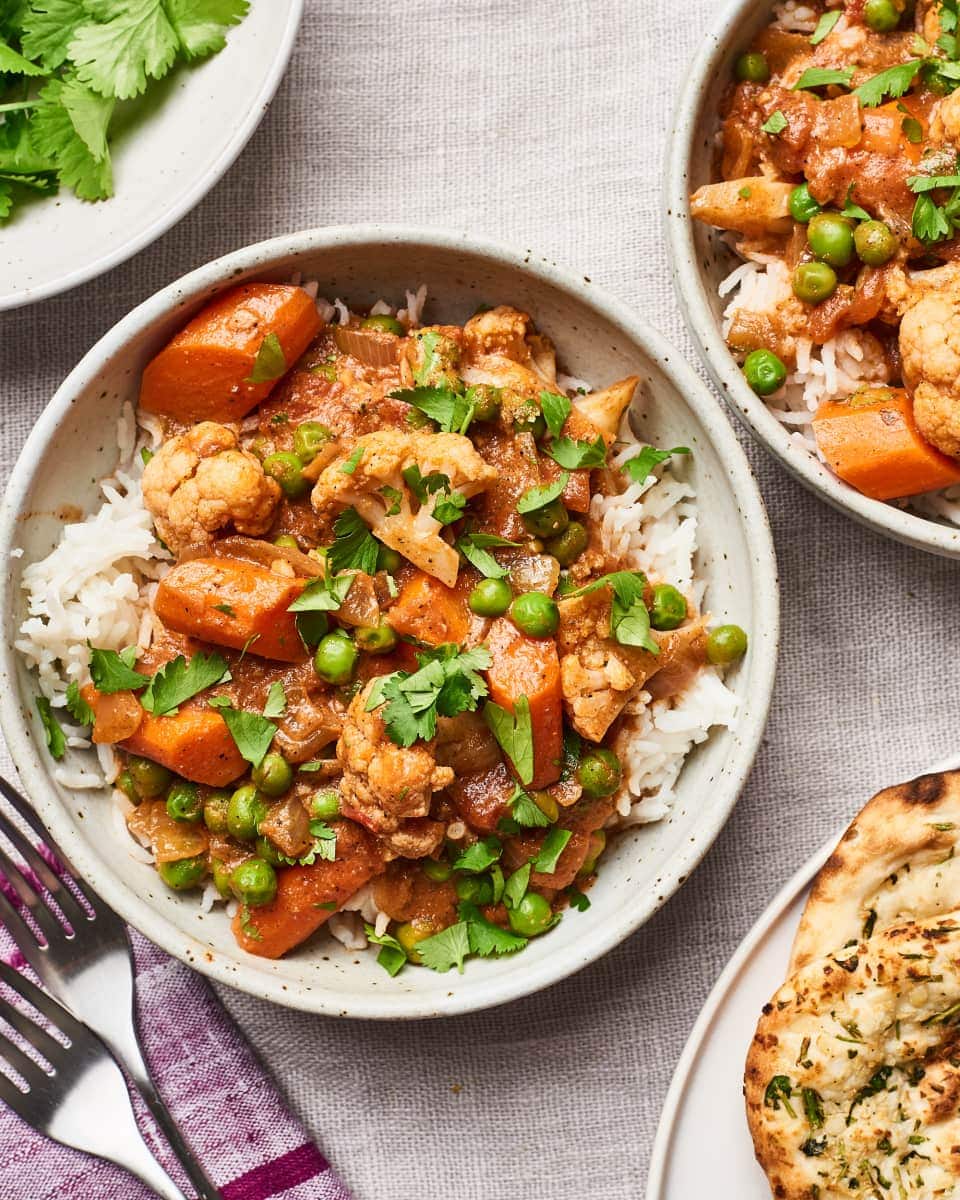 Easy Vegetarian Tikka Masala (Vegan)
Serves 4
Cooks in
Preparation Time
Moderate
Ingredients
2 tablespoons ghee or olive oil
1 large yellow onion, diced
1 tablespoon peeled and finely chopped fresh ginger
3 cloves garlic, minced
2 tablespoons garam masala
2 teaspoons ground coriander
1 teaspoon paprika
Pinch cayenne pepper
1 1/2 teaspoons kosher salt
2 tablespoons tomato paste
1 small head cauliflower (about 2 pounds), cut into bite-size florets
1 pound carrots (3 to 4 large), peeled and cut into 1/2-inch pieces
1 (15-ounce) can crushed tomatoes
1 cup low-sodium vegetable broth
1 cup field fare frozen peas
1 cup heavy cream or unsweetened full-fat coconut milk
Cooked basmati rice, for serving
Fresh cilantro leaves and tender stems, for garnish
Heat the ghee or oil in a high-sided 12-inch skillet over medium until shimmering. Add the onion, ginger, and garlic and stir to coat. Add the garam masala, coriander, paprika, cayenne, and salt and cook, stirring occasionally, until the onion is softened, about 10 minutes. Add the tomato paste, stir to coat the aromatics, and cook for 1 minute.
Add the cauliflower and carrots and stir well to coat with spices. Add the tomatoes and broth and stir to combine, scraping up the browned bits from the bottom of the bottom of the pan. Bring to a boil. Reduce the heat to low, cover, and simmer until the vegetables are just tender, 20 to 25 minutes.
Stir in the peas and cream and simmer uncovered, stirring occasionally, until thickened, 10 to 15 minutes. Serve over basmati rice and top with cilantro.
Many thanks to www.thekitchn.com for this recipe