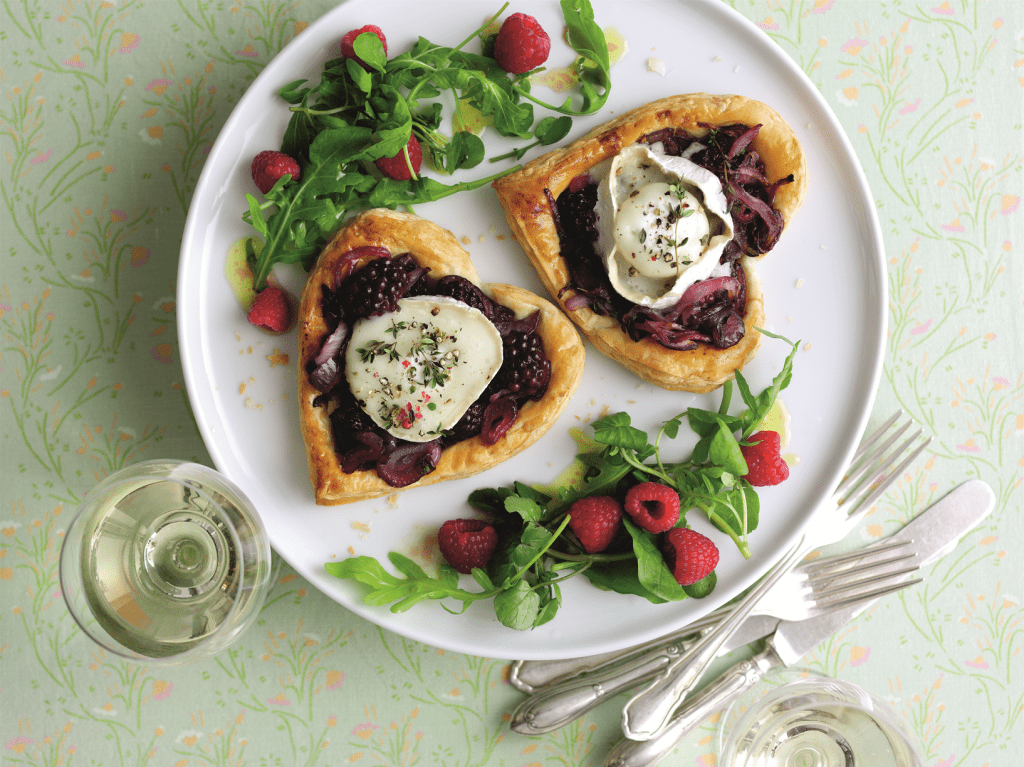 Blackberry and Goat's Cheese Tart
Serves 4
Cooks in
Moderate
Ingredients
1 tablespoon olive oil
15g butter
2 red onions, halved, thinly sliced
2 teaspoons caster sugar
150g field fare frozen blackberries
3 stems fresh thyme, leaves torn from stems, plus a little extra for garnish
Salt and freshly ground black pepper
Packet field fare frozen puff pastry, defrosted
Beaten egg, for glazing
100g goat's cheese, cut into 4 thin slices 
To finish
1 tablespoon red wine vinegar
2 tablespoons olive oil
½ teaspoon caster sugar
½ teaspoon Dijon mustard
100g mixed rocket, spinach and watercress salad
175g field fare frozen raspberries
Preheat the oven to 200°C (180°C fan), Gas Mark 6. Heat the oil and butter in a frying pan, add the onion and fry for 5 minutes, stirring until softened. Add the sugar and fry for 5 minutes, stirring more frequently, until lightly browned.
Mix in the blackberries and thyme, then season with salt and pepper.
Unroll the pastry, then cut 4 heart shapes, transfer to a wetted baking sheet and prick the centre of each heart with a fork, leaving a border about 2cm (3/4 inch) all the way round.
Brush the pastry with beaten egg, then pile the onion and blackberry mix in the centre of each pastry heart. Bake for 10 minutes, until the pastry is well risen and lightly browned.
Top each with a slice of goat's cheese, a few extra thyme leaves and some salt and pepper. Bake for 4-5 minutes more, until the cheese has just softened and the pastry is cooked.
Meanwhile, mix the vinegar, oil, sugar and mustard together in a bowl to make a dressing. Add a little salt and pepper, then the salad leaves and raspberries and gently toss together.
Arrange one heart per serving for a starter, two for a main course on to plates with a little salad.
Cook's tip
If you have some raspberry or blackberry vinegar, then use this to make the salad dressing.
Many thanks to www.seasonalberries.co.uk for this recipe.
Important Information
d
These cooking instructions are a guide only. Your appliance may have a different power rating, so please adjust accordingly