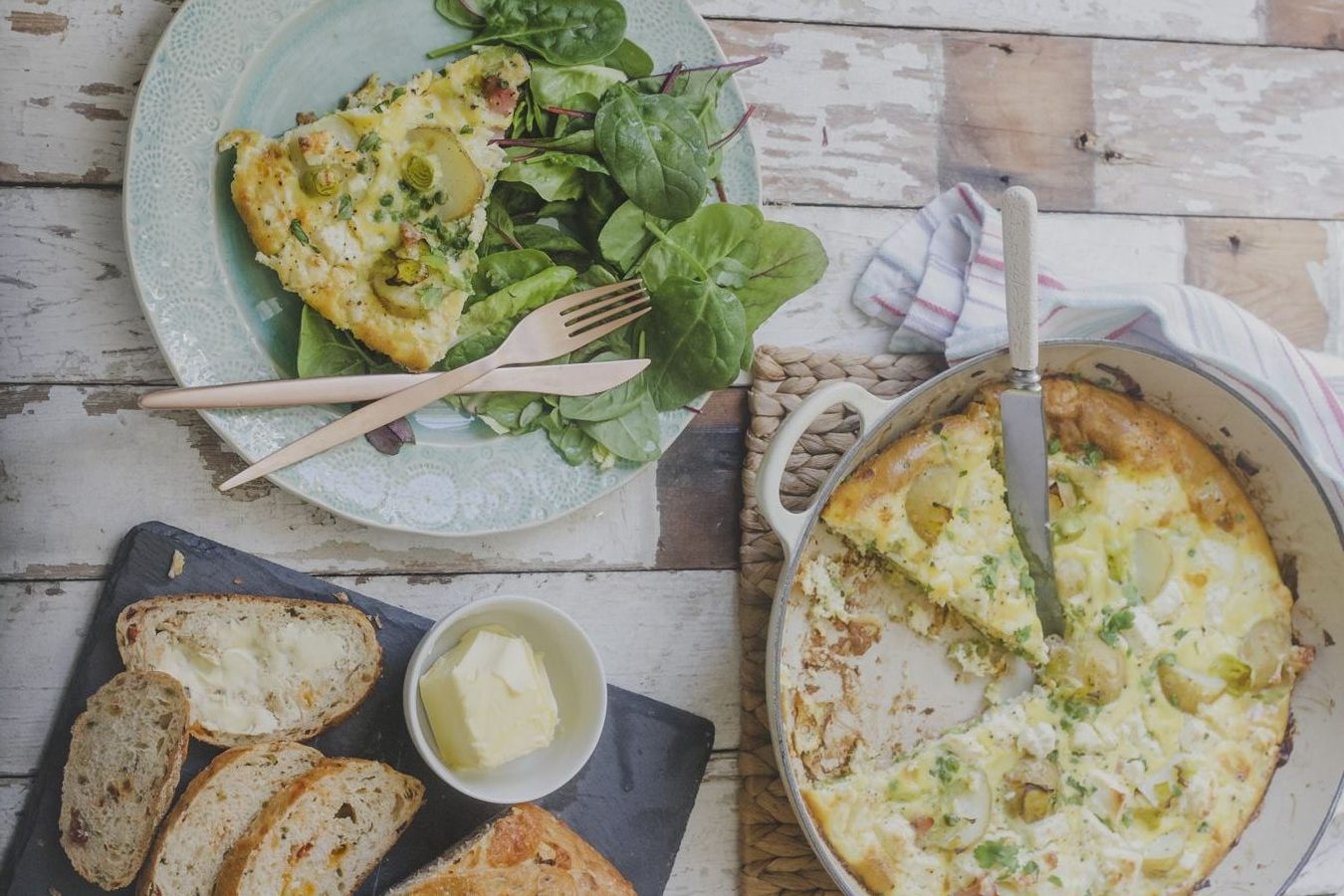 Leek, Potato, Bacon, Pea and Feta Frittata
Serves 4
Cooks in
Preparation Time
Easy
Ingredients
300g baby new potatoes washed and halved
1 tbsp olive oil or spray pan with fry light
2 leeks washed and sliced
130g lean bacon chopped
180g feta cheese cubed
100g field fare frozen peas
8 eggs beaten
1 tbsp fresh flat leaf parsley finely chopped to garnish
Put the baby new potato halves into a pan of salted cold water, bring to the boil and then turn the heat down to medium and allow to gently cook for 20 minutes.
Meanwhile heat a large shallow oven-proof dish with a tablespoon of olive oil (or a few squirts of fry light) and gently stir fry the leeks and bacon with a generous pinch of sea salt until the leeks soften and the bacon starts to colour.
Turn off the heat on the hob and pre-heat the oven to 180C/160C fan/gas 4. Once the potatoes are cooked, drain and add to the pan with the leeks and bacon. Give them a stir, making sure the potatoes are evenly distributed.
Dot the feta cheese and frozen peas around the dish, then pour the beaten egg into the dish, making sure it's evenly covered. Season with salt and pepper and pop the dish into the oven and bake for around 35 minutes until the egg is set and the whole thing looks gloriously golden.
Remove from the oven and serve immediately with a crisp green salad and slices of buttered crusty
Many thanks to www.feedingboys.co.uk for this Recipe