It's official. We've just won four more awards across our delicious range. Announced today via Great British Food Awards, we've won two Bronze and two Silver awards! The Great British Food Awards were launched in 2014 to celebrate the very best artisanal produce in the food and drink industry. The judging panel comprises some of the most acclaimed chefs, food critics and influencers in the country.
Judges bestowed the awards for 2 savoury and 2 sweet products and their feedback was very positive too!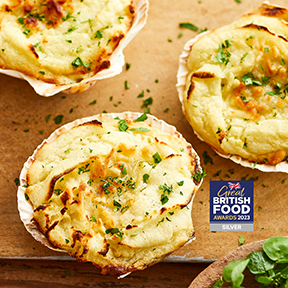 Coquilles St Jacques – Silver
"Fieldfare's Coquilles St. Jack is the standout star of any dinner table and a surefire hit at dinner parties. These delectable scallops were generously packed with a delightful medley of seafood. The cheesy gratin topping adds a layer of indulgence, making each bite a heavenly experience. We couldn't get enough of them. A true culinary masterpiece!"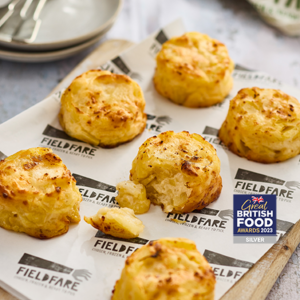 Potato Gratin – Silver
"These Potato Gratins are little bits of goodness in perfect portion sizes. They are a delightful side dish that combines creamy, tender potatoes with a cheesy, golden crust. Each bite is a savory delight, making them an ideal accompaniment to any meal. Whether for a special occasion or everyday indulgence, these gratins are sure to please with their comforting simplicity."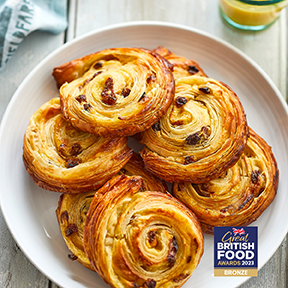 Pain Aux Raisin – Bronze
"Prepare these frozen Pain Aux Raisins with a simple egg wash and eagerly await their transformation in the oven. The result is a delightful treat featuring flaky pastry and plump raisins. With every bite, you'll savour the perfect balance of buttery goodness and fruity sweetness. A truly indulgent pastry that makes any morning or afternoon a little sweeter."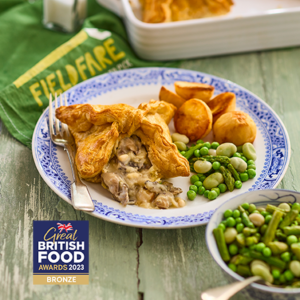 Mushroom, Stilton and Pine Nut Parcel – Bronze
"Hearty and generously filled, this Mushroom, Stilton & Pine Nut Parcel is just the thing as a centrepiece for a vegetarian dish, but full flavoured enough to satisfy even the most devoted meat eaters, too. The filling is rich and oozy with just the right amount of Stilton so as not to overpower the mushrooms. Pine nuts deliver the occasional satisfying crunch, and the pastry case is mouth wateringly crumbly. Delicious!"
That now brings our award-winning product total, across the range, to 17!!
We're just off to pop a couple of pastries in the oven, to celebrate!!