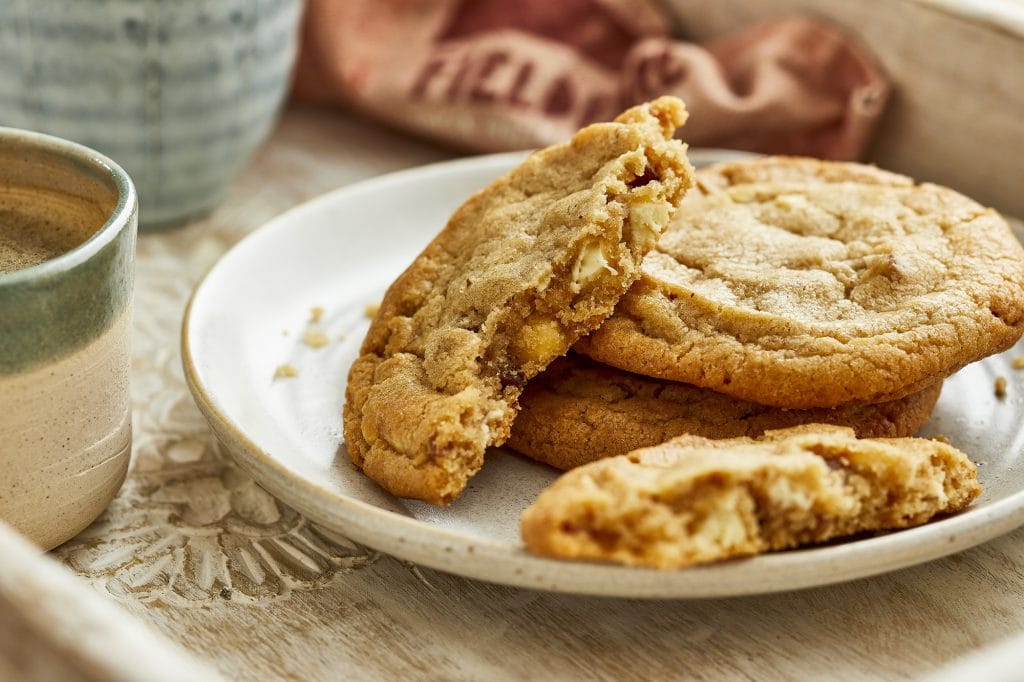 White Choc & Pecan Cookies
Ready to bake, frozen sweet cookie dough filled with creamy white chocolate drops and pecan nuts. Delicious!
Cook from frozen. Line a baking tray with baking paper. Place cookies 5cm apart and bake at 180°C/350°F/Gas Mark 4 for 15-20 minutes. Leave to cool.
Wheat Flour , Sugar, White Chocolate Chunks (12%) (Sugar, Whole Milk Powder, Cocoa Butter, Emulsifier: Soy Lecithin, Natural Vanilla Flavour), Sugar (Inverted Sugar Syrup, Caramel), Eggs, Colza Oil, Margarine [Oils and Fats Non-hydrogenated (Coconut Fats, Sunflower Oils), Water], Chopped Pecans (5.5%), Baking Powder [E450i & E500ii, Wheat Starch], Salt.
Allergen warning
Please note if you have any food allergies from which you may suffer anaphylactic shock, our products are sold loose and there is a possibility allergens may carry from one product to another.
Allergens include peanuts, tree nuts, sesame, milk, egg, shellfish (crustaceans or molluscs) & fish.
If you like the White Choc & Pecan Cookies, then you'll love these!