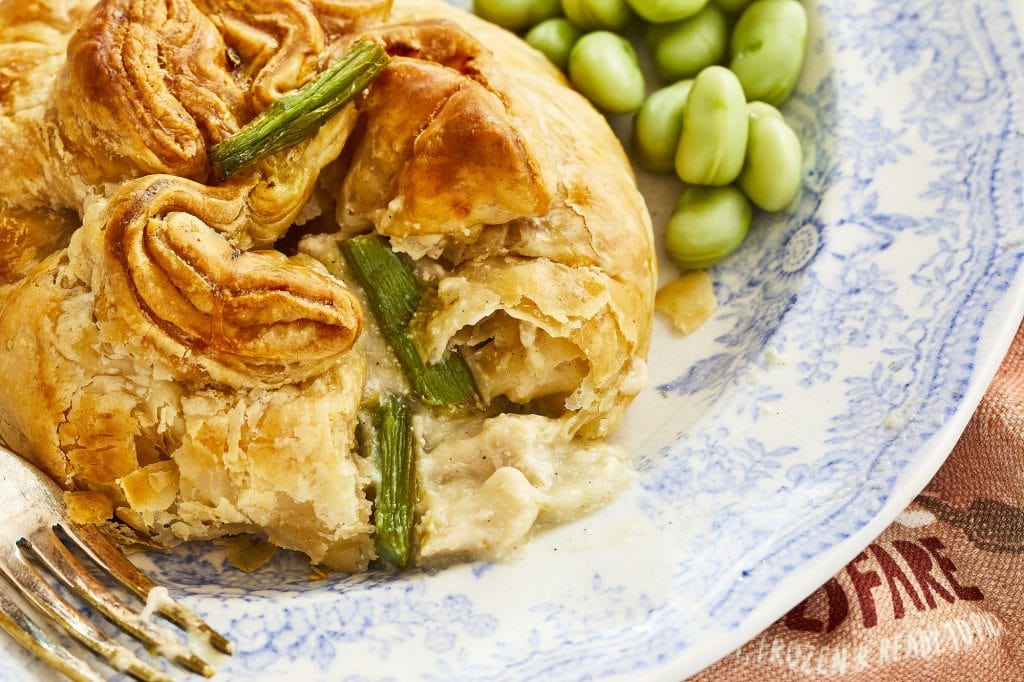 Creamy Chicken & Asparagus Puff Pastry Pie
Succulent chicken in a creamy white wine sauce, all wrapped up in a puff pastry purse
Cook from frozen on a baking tray at 200ºC/400°F/Gas Mark 6 for 40-45 minutes until golden brown top & bottom.
Water, Flour [Wheat Flour, (Calcium, Iron, Niacin, Thiamin)], Chicken Breast (16%), Margarine [Water, Emulsifier: (E471), Flavouring, Colour: (E160B, E100), Vegetable Oil (Palm, Rapeseed)], Cream (4%) (Milk), Shallots, Seasoning [Wheat Flour (Calcium Carbonate, Iron, Niacin, Thiamin), Modified Starch (Maize), Skimmed Milk Powder, Salt, Flavouring (Soya), Dried Onion, Dried Garlic, Natural Flavouring], White Wine (2%) (Sulphites), Asparagus (2%), Cheddar Cheese (Milk), Chicken Stock [Salt, Sugar, Flavouring, Yeast Extract, Fat, Maltodextrin, Chicken, Onion Juice Concentrate, Antioxidant (E392), Spices (Garlic, Tumeric), Starch (Potato,Pea), Vegetable Oil (Palm, Sunflower)], Vegetable Stock [Potato Starch, Salt, Maltodextrin, Sugar, Yeast Extract, Onion Powder, Carrot, Celery Seeds, Garlic, Lovage Root, Turmeric, Pepper, Flavouring (Celery), Vegetable Oil (Palm)], Asparagus, Black Pepper, Glaze [Dextrin (Sulphites), Stabiliser: (E412), Colour (E160A)].
Allergen warning
Please note if you have any food allergies from which you may suffer anaphylactic shock, our products are sold loose and there is a possibility allergens may carry from one product to another.
Allergens include peanuts, tree nuts, sesame, milk, egg, shellfish (crustaceans or molluscs) & fish.

If you like the Creamy Chicken & Asparagus Puff Pastry Pie, then you'll love these!