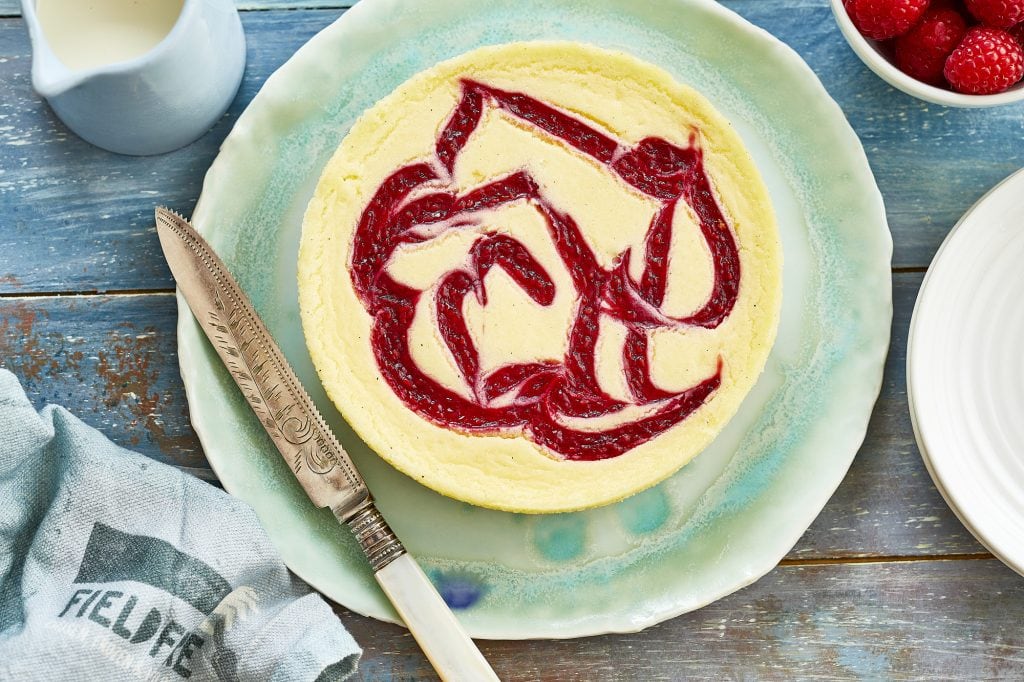 Raspberry Ripple & White Chocolate Cheesecake
Beautiful baked cheesecake made with sweet raspberry coulis and white chocolate on a crunchy biscuit base
Simply defrost in the fridge 24 hours before serving.
Gluten Free Biscuit Crumb (Maize Starch, Sugar, Rice Flour, Margarine (Palm Oil, Palm Stearin, Water, Coconut Oil, Rapeseed Oil, Lemon Juice), Potato Starch, Vegetable Oils (Palm Oils, Rapeseed Oil), Water, Glucose Syrup, Rice Bran, Millet Flake, Raising Agent (Disodium Diphosphate, Potassium Hydrogen Carbonate), Caramelised Sugar, Free Range Dried Egg, Stabiliser (Xanthan Gum), Salt), Cream Cheese (20%) (Milk), Whipping Cream (Milk), Egg, White Chocolate (7%) (Sugar, Whole Milk Powder, Cocoa Butter, Emulsifier (Soya Lecithin), Natural Vanilla Flavouring), Water, Mascarpone Cheese (5%) (Milk), Caster Sugar, Raspberries (3%), Unsalted Butter (Milk), Neutral Glaze (Glucose Syrup, Water, Gelling Agent (Pectin, Sodium Alginate, Carrageenan, Xanthan Gum), Acidifier (Citric Acid), Natural Flavouring, Acidity Regulator (Trisodium Citrate, Tricalcium Phosphate), Preservative (Potassium Sorbate)), Margarine (Vegetable Oil (Palm Oil, Rapeseed Oil), Water, Emulsifier (Mono- and diglycerides of Fatty Acids)), Modified Maize Starch, Corn Flour, Gluten Free Egg White Powder (contains Citric Acid), Raspberry Compound (Sugar, Raspberry, Glucose-Fructose Syrup, Colouring (Carrot, Blackcurrant), Acidifier (Citric Acid), Acidity Regulator (Trisodium Citrate), Modified Starch), Acidifier (Citric Acid).
Allergen warning
Please note if you have any food allergies from which you may suffer anaphylactic shock, our products are sold loose and there is a possibility allergens may carry from one product to another.
Allergens include peanuts, tree nuts, sesame, milk, egg, shellfish (crustaceans or molluscs) & fish.

If you like the Raspberry Ripple & White Chocolate Cheesecake, then you'll love these!