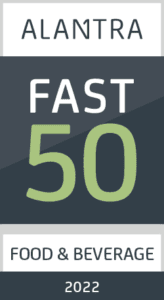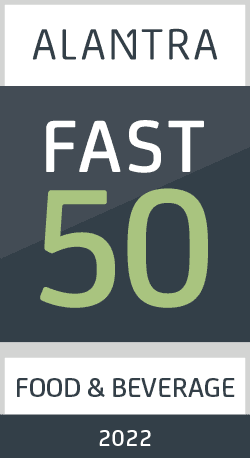 We're delighted to have been named as an Alantra Food and Beverage Fast 50 proving that premium frozen is more popular than ever.  We're the only brand that specifically supplies to the farm shop trade and our being included is pretty unique and highly encouraging for the fine foods industry.
We've been listed on Alantra's annual Fast 50, a ranking of the country's fastest-growing food and drink companies based on two-year sales growth, at number 34, with a reported two-year CAGR of 25%. Growing demand from shoppers for high quality frozen foods, sustainable options and the rise of the refill movement, has contributed to increased interest in us and our unique loose frozen foods concept.
Whilst over 40 years old, our concept isn't new but we'd like to think that our recent growth has been boosted by a successful rebrand and shopper education campaign.
2021 we re-launched the brand with a contemporary new brand look and converted all Fieldfare freezers to the new look
2022 – launched a national consumer media advertising campaign in the consumer (delicious, Country Living, BBC Good Food magazine) which increased consumer awareness
2022/23 – launched digital advertising – promoting the brand to 'sophisticated foodies' on Facebook & Instagram reaching over 7 million shoppers!
Our range is perfectly suited to the modern shopper's needs including changing family dynamics and the need for more conscious eating and shopping habits. By focussing our marketing efforts on educating consumers and encouraging them to shop in a different way, we've successfully driven more shoppers to actively seek out loose frozen foods.
Whilst many fine foods or artisan brands may aspire to gaining supermarket listings, Fieldfare remains steadfast in its focus on the farm shop, independent and speciality trade.
Matt Whelan, Fieldfare managing Director says:
"The way people shop has changed significantly in the recent years and we believe that, in spite of current challenges, the opportunity for the independent and fine foods trade is stronger than ever.  Unlike many brands listed in the Alantra Food and Beverage Fast 50, Fieldfare has been around for a long time and our experience in the fine foods trade is invaluable. We continuously update our offering to ensure it remains relevant to fine foods shoppers. At the same time, we work closely with our customers to ensure that they get the most out of listing our products. We believe that fine frozen foods are here to stay, and so are we."
So, here's to more growth and continuing to champion premium frozen food!